Friday, December 31, 2010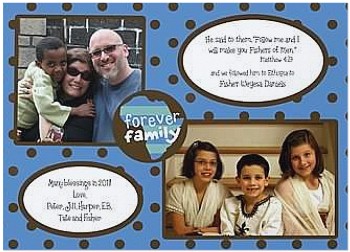 Print Your 5x7 Photo Card Print Your 5x7 Photo Card

Thursday, December 30, 2010
Posted by

Jill
at 1:55 PM
No comments:


Tuesday, December 28, 2010
We had a bag of coins that was overflowing so today on the way home from swimming I sent Harper into the bank. She was telling me the lady had her sign the back of the slip and she could not keep it. I said did you feel so grown up. She said, kind of but not really because the lady asked her if she wanted a lollipop!
Posted by

Jill
at 2:36 PM
No comments:


The Curry's took us as their guests to the lights at Brookfield Zoo! We were so excited because we have done this every year with the kids but this year we had skipped the membership until Fisher came home. It was fun even though Peter was traveling and could not join us.
Not sure all 3 girls will fit next year!
Tate alone on the lion and liking it!
Posing for me but not that happy about it!
EB is all smiles with Frosty!
Tate, Harper, EB and Peggy
It was cold out there!
Smile for the camera on top of the HUGE snow hill -- this was right before Tate pushed EB down the hill!
Who wants to watch the dancers inside when you can be outside in the freezing cold playing on a snow hill?
Even the girls wanted to watch outside atop the snow hill in the COLD!
Posted by

Jill
at 1:43 PM
No comments:


Saturday, December 25, 2010
Grandma and Grandpa came with tons of gifts. So many that EB said their gifts were better than Santa's gifts.
Posted by

Jill
at 1:33 PM
No comments:


Christmas morning has some traditions and one of them is the kids cannot come down the stairs and see their stockings or presents until they sing me a song on the stairs. This year they had been practicing and even had moves. They realized if they could get it right the first time there would not be a second time. They were wrong!
After some fun of opening up the stockings where Santa brought them some science kits and astronaut food, Tate gave the song he wanted to sing on the stairs a go!
Here are some stocking pictures...
The kids were in a great mood after their stockings so I figured why not another song!
Santa did not leave a ton of presents this year, he thought was less was more and the kids were just as happy with a few things and they were super excited to give us the presents they made. Tate made a box of presents for everyone and EB got a panda mask made out of a paper plate. They were all so proud of their gifts to give.
Clay projects -- EB could not wait and gave us ours last week.
Uncle Joe, Aunt Rachel, Annie and Theo were super generous to the kids this year (and all of us). Harper and Ellie opened their presents from them this morning. Grandma and Grandpa have Tate's present and Fisher's present, an iPod touch came a couple of weeks ago and is charged and ready for Peter to bring to him when he picks Fisher up.
Some pictures with the new camera!
Stay tuned for the arrival of Grandma and Grandpa Claus!
Posted by

Jill
at 8:35 AM
No comments:


Friday, December 24, 2010
We had a nice night despite EB sleeping from Church and not making it home before she got really sick. Thankfully the car remained cleaned -- I am calling that my Christmas miracle! Grandma and Grandpa came over instead of meeting us for dinner and we enjoyed hanging with them. The kids really wanted to go to bed super early so they did not miss Santa but we convinced them to watch a movie.
Not looking that sick is she?
Posted by

Jill
at 8:15 PM
No comments:


Thursday, December 23, 2010
Today was a day where we just stayed in and the kids played and Peggy hung out with us. The kids spent the morning watching old videos so I was all about getting some fun new ones.


I caught Peggy and EB dancing away and had to have them do it again so I could get it on video.



I had no idea our fun day would also involve a wedding. Peggy claims Tate has been chasing her down but if you were at the wedding you might think that may not be the case.



Posted by

Jill
at 8:09 PM
1 comment:


Tuesday, December 21, 2010
We are waiting for Fisher to come home and the wait is getting longer and longer everday. Yesterday I emailed Bete who works at Sele Enat and asked him to give him a hug and a kiss for us and tell him we are coming. This is what he wrote back...

Hi Jill I gave him a big kiss & hug. when he heard you're coming he is so excited. I think he loves you so much and eager to see you.
See u soon
Bete
Posted by

Jill
at 7:43 AM
1 comment:


Thursday, December 16, 2010
I am PTC President for Ogden and one of the perks is you get to go around with Santa to deliver presents. I loved it and it was fun to get to peak in on the kids. I caught Harper in the middle of her play rehersal and I am not sure she was thrilled with that!
Posted by

Jill
at 8:38 PM
No comments:


Sunday, December 12, 2010
Tate and I used to hang a lot together last year when he was with every morning before Kindergarten. I must admit I miss him tons now that he goes all day. Even though I can see his classroom from our house, I have not gotten out the binoculars to spy on him, although I have been tempted. For some reason it was just me and Tate for a few minutes and we snapped this picture on PhotoBooth.
Posted by

Jill
at 8:27 PM
No comments:


Monday, December 6, 2010
I was making a special Christmas present for Tate and Grandpa and realized I don't have a lot of pictures of the two of them together. I was determined to get a couple of good ones. The reason we don't have many together may be we have 2 very unwilling subjects but I think we got a good one!
Posted by

Jill
at 8:47 PM
No comments:


We celebrated the big 10 and 65 for Harper and Grandma at dinner at Olive Garden. It is very fun for them to have the same birthday! Cannot believe how old Harper looks and young Grandma looks! :)
Posted by

Jill
at 8:44 PM
No comments: